Air Duct Sealing and Duct Repair in The Midlands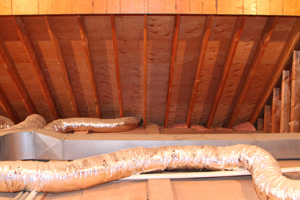 Clean and efficient ducts. Keep your ducts working properly with professional inspection and maintenance.
How to Maintain the Duct Work in Your South Carolina Home
If you're experiencing significantly less hot air output from your heat registers, or your home never seems to stay cool on hot summer days, your duct system may be the source of the problem.
How do you know if your ductwork system needs evaluating?
Air duct joints feel drafty
Family members allergy or asthma symptoms are worsening
High energy bills
Heating or cooling your home isn't as efficient as it could be
These are just a few of the home energy efficiency problems Dr. Energy Saver can fix. Contact us for a ductwork estimate by one of our company's highly trained certified duct work sealing contractors.
Our ductwork sealing specialists service Lexington, Columbia, Mount Pleasant, Simpsonville, Summerville, Charleston, Greenville, Spartanburg, Florence, Aiken, North Augusta, Sumter, Greenwood, Chapin, and the surrounding South Carolina area.
Why ducts are important
With any forced-air heating or cooling system, ducts are essential components. Large blowers circulate conditioned air from your furnace and/or air conditioner to the rooms of your home and then back again to be reheated or cooled, depending upon the season. Ductwork can also contain furnace filters, air purifiers, and humidifiers as well.
As simple as duct systems are, a number of things can go astray with the components that make it up. Loose connections, improperly sized ducts, tears and splits can release a high volume of conditioned air into places where it shouldn't go, like basements, attics and wall cavities. Damaged or compressed ducts can restrict or alter air flow all together. Valuable heat and the overall effectiveness of a central air conditioning system can be wasted by uninsulated and unsealed duct joints. Accessories like dehumidifiers, unsuitable or dirty filters, and old air cleaners can also be wasting energy or causing other problems.
In addition, leaky basement ducts can create pressure imbalances between parts of your home with undesirable results. Leaks in below-grade spaces can cause air from these spaces to be pulled into the living spaces directly above them. Such air, often filled with dust or mold spores, contributes to indoor air pollution, which in turn makes occupants uncomfortable or ill.
A quick, fast way to reduce energy bills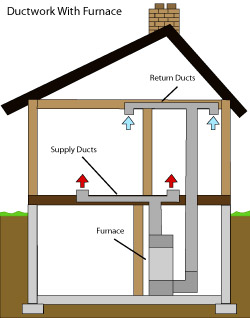 Think of your ducts as pathways in which money (the money you've spent to heat or cool air) is flowing.
Improperly sealed or insulated ducts, or those in need of repair, allow dollar bills to escape out the gaps every time your furnace or air conditioner turns on.
Within a few years, the cost of fixing your duct system can be recouped. Consider your repairs as an investment, leading to pure savings season after season.
Contact us today for a ductwork estimate in Columbia, Summerville, Mount Pleasant, Charleston, Simpsonville, Lexington, West Columbia, Laurens, Hartsville, North Charleston, Piedmont, Goose Creek, Orangeburg, Camden and the surrounding South Carolina area.